Wall Padding
Padding Depot in Goshen, OH provides top-notch wall padding. Enhance the appearance of your gym with safety in mind. Check out our products.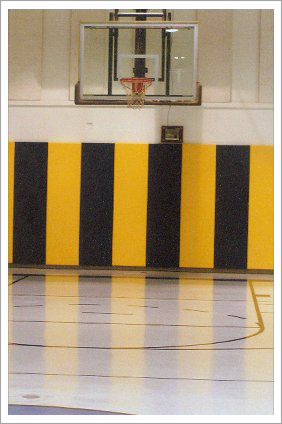 Our Wall Pad Features:
Assorted Colors Available
Backed in 3/8" Or ½" American CDX Plywood, Pressure Treated Plywood for Exterior Use, with a 1" Lip at the Top and Bottom for Easy Installation
Custom Sizes Available
Cut-Outs (Electrical Outlets, etc.)
Made of 2" - 4" High Density Polyurethane Foam, Covered with 14 Oz.-18 Oz. Nylon Reinforced Vinyl
Meets All Necessary Regulations
Standard Sizes: 2' X 6' and 2' X 7'
Mounting Systems
An easy mounting bracket can be used with the wood backed pads described above.
The bracket eliminates the top lip and exposed hardware for a nice clean finish.
The bracket can also be used on top and bottom for no exposed plywood.
Panel Wall Padding
Padding Depot in Goshen, OH is the right destination for excellent panel wall padding. Read more about our products.
Our Panel Wall Pad Features:
Assorted Colors Available
Attractive 2' Wide Portable Panels
Custom Sizes Available
Cut-Outs




Made of 2" – 4" High Density Polyurethane Foam, Covered in 14 Oz.-18 Oz. Nylon Reinforced Vinyl
Meets All Necessary Regulations
Standard Sizes: 2' X 6' and 2' X 7'
Velcro Mounted, D-Ring Attachment
or Grommets